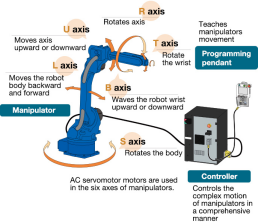 Robot arm
Wednesday, 17 June 2020

1

1334

0
Recently I have many inquiries from customers about the Robot arm.Someone wants to use the robot arm for education demonstration, and the other one wants to use the robot arm to pick up the products in the production line.Even some one wants to use the robot arm to fry the potato chips.
Now let's take a look at robot arm's components.A robot arm consists of "manipulator" which moves and performs tasks, "controller" which actuates and controls the manipulator, and "programming pendant" which teaches the manipulator movement.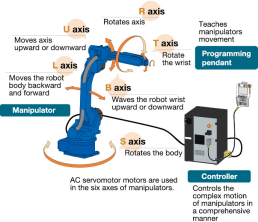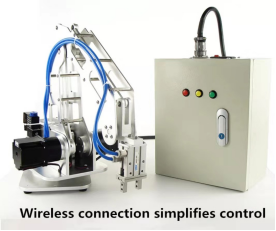 The purpose of a robot arm is to repeat over and over the action of "quickly and efficiently moving generic tools which are appropriate for a particular task to the location for that task".
For example,as for the handling work, a tool for picking up items that is attached to the tip of a robot (manipulator) is given instructions to move to the site where the items to be moved are placed, pick them up, and move them to a designated spot where the tool releases them in a prompt and precise manner.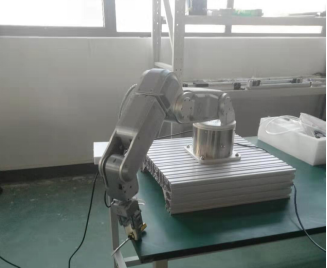 For these purposes,robot arms need to be equipped with the basic capacities of speed,for quick movement as well as accuracy, to stop at the precise position required and to ensure that they do not waver while they are on the move, and breadth for workable areas.
Robots have expanded in appeal and presence in not only industrial but also other fields by advancing speed, accuracy improvement, response to complex movements, and strengthening of safety functions toward coexistence with humans,which play important roles in every industrial field including welding, handling, assembly, and painting, as well as handling, transfer and so on. The development of robots actively participating in fields closer to humans will continue to advance in the future.

Your cart is currently empty.