BLD-70 12V-24V 70W BLDC Motor Driver
Description
24V BLDC Motor controller BLD-70 12V-24VDC 70W Brushless DC Motor Driver Controller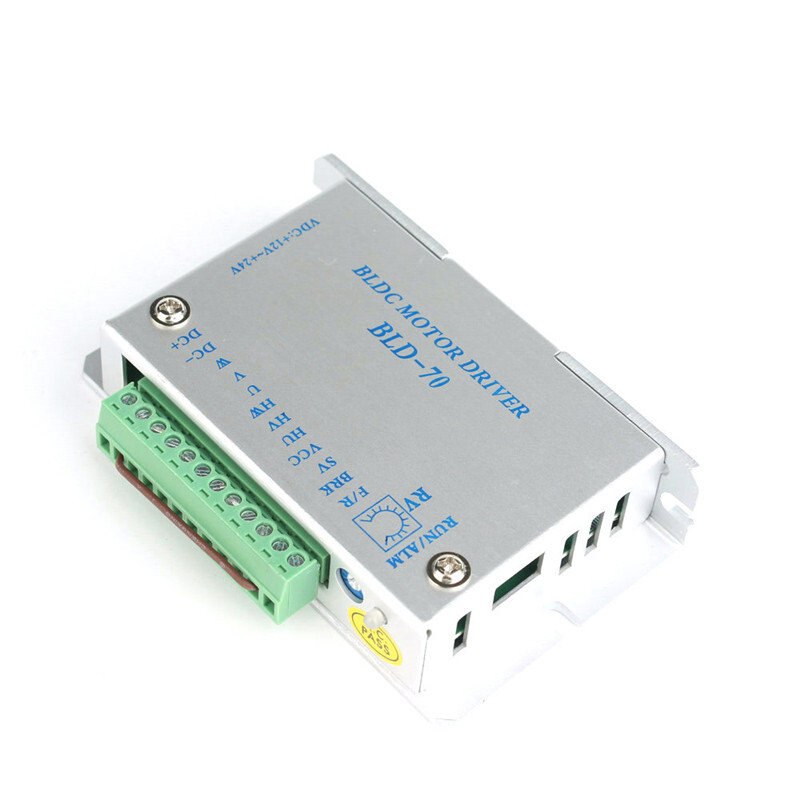 Features
HALL angle: 120°
Multi-speed regulation modes
Maximum input voltage: 30V
High efficient, slowly temperature rise and compact size
Smooth torque output within speed range of 0-20000rpm
Electrical indexes
| | | | | |
| --- | --- | --- | --- | --- |
| Driver Parameters | Minimum value | Rated value | Maximum value | unit |
| Output current | - | 3 | 6 | A |
| Input voltage | 12 | 24 | 30 | VDC |
| Hall drive current | - | 20 | - | mA |
| Hall signal voltage | 4.5 | 6.25 | 6.5 | V |
| Applicable motor speed | 0 | - | 20000 | RPM |
Environmental indexes
| | |
| --- | --- |
| Environmental factors | Environmental indexes |
| Use occasion | Avoid dust, oil stain and corrosive gas |
| Operating temperature | 10℃~+50℃ |
| Environment humidity | 40-90%RH (no condensation) |
| Vibration | 5.9m/s2 Max |
| Storage temperature | -20℃~+125℃ |
| Cooling mode | Natural cooling or forced cooling |
Driver interface and motor connection
| | |
| --- | --- |
| Terminals | Function |
| SV | 1.External potentiometer; 2.Input analog signal. |
| F/R | High level input the motor will rotate anticlockwise, low level input or when F/R and DR- are connected, the motor will rotates clockwise. |
| BRK | Brake stop control signal: The motor brake stops when a high level is added or port suspension; the motor runs when the low level is added or DC- and BRK are connected. |
Four speed regulation modes
Build-in potentiometer RV
Rotate the RV knob clockwise,
the motor starts to run and accelerate.
Motor speed will decrease if anticlockwise.
When it gets to a limited position, the motor stops.
External potentiometer
​
Use a suitable potentiometer with a resistance value of 10KΩ, connect middle terminal with SV terminal, and the other two terminals are respectively connected with VCC terminal and DC- terminal.
Input analog signal (0-5V)
Voltage and motor speed relational diagram(unloaded)
Quick brake
BRK and DC- are connected in default, the motor will rotate. When BRK and DC- are disconnected, the motor will be quick brake.
CW/CCW rotation
Connect F/R and DC-, the motor will rotate clockwise, disconnect it, the motor will rotate anticlockwise.
Mechanical Dimension

Your cart is currently empty.